linuxdave — September 4, 2005, 10:09 am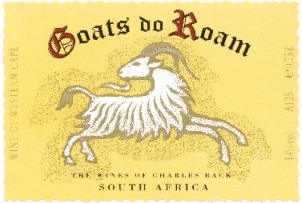 As of late, I've been getting annoyed with the value that seems to be placed on a catchy name, especially with cheap wine, but I'm glad I tried this spicy blend of Shiraz and Pinotage. Okay, so how did it get the name? Let me share with you the fun story on the bottle:
"One afternoon, at harvest time, my mischievous son Jason and his friend Justin let the goats out of their tower and sent them for a walkabout amongst the vines. As in the legend of the Yemeni goat herder, whose roaming flock first discovered the joys of coffee beans, our goats picked out the best and tastiest fruit. Their choice serves as our inspiration for this wine. To life!"
Hey! This is the first South African cheap wine review! This one is from Paarl:

I would describe this as a dark red wine with a rich, fruity aroma, and an acidity that seems to tie everything together nicely. I will be purchasing this wine many more times. According to the Goats do Roam website, this wine should be the perfect age for drinking today. Good thing I drank the whole bottle yesterday. This wine makes me want to visit South Africa even more now. Two thumbs up.
Price: $7.99
Alcohol: 14%
Winery Info:
Goats do Roam Wine Co
Paarl, South Africa
www.goatsdoroam.com