Part of becoming a connoisseur of cheap wines is knowing where to look for them. I'll share with you one of my little secret places I attempt to seek out cheap wine: the "Reduced for Quick Sale" shelf at your local supermarket. At Meijer, my local super-mega-ultra-store, this shelf is usually located in the bottle return area. Not a very pleasant place to be searching for wines, but just think of it as a treasure hunt! You may find a bounty of cheap wines that you never knew existed.
While picking over the wines yesterday, a cartoon label caught my eye: Big Daddy Vineyards Merlot. I picked up the March 2002 vintage for about 6 dollars.
Why was this reduced for quick sale? Was it worth enduring the stench of the bottle return area to bring home this wine? Yes, yes it was. It's almost sad that this wine traveled all the way from Argentina to end up in my bottle return area.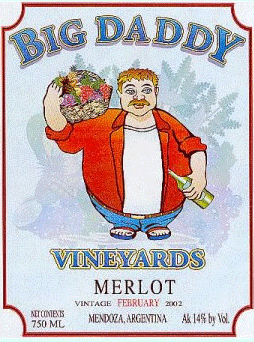 Big Daddy knows how to make a good cheap wine. Believe it or not, the first attribute of this wine I picked up on was the light hint of bacon. Mmm bacon. Who doesn't love bacon? Big Daddy loves it, that's for sure. Look at that belly! On top of the bacon was a strong berry with a leathery taste.
If you're looking for a full bodied cheap red wine with a lot of character, give the Big Daddy Merlot a try.
Rating: 8/10 – High score for originality
Price: 6.00
Place of purchase: Meijer
Vineyard Info:
Big Daddy Vineyards
Mendoza, Argentina
www.bigdaddyvineyards.com