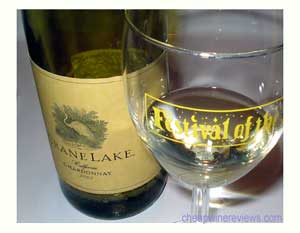 A classic scene, and one that I'm getting quite used to: I'm in the liquor aisle with less than 10 dollars in my pocket looking for a wine. Complicating things, I was expecting 3 other people for our Sunday dinner. I'm usually the one to bring the wine since most of my friends know I review wine for a living now. Ok, so I still have a day job, but one can hope!
Okay… whitefish for dinner. Now, I'm not big on strict pairings of wine and food, but I personally enjoy Chardonnay with white fish. It is also hotter than hell today, so let's find the cheapest Chardonnay we can. After searching for a few minutes, guess what the cheapest was? The label was very plain but the "3/$10.00" sign in front of the wine what caught my attention. Yeah, Crane Lake again. 3 bottles for $10.00. Awesome.
Pro tip: Bringing a cheap wine to a dinner party? Don't even think about it unless you've tried it before. Now, I'm a little rough around the edges, but I'm not going to lie to you: I've had this wine before. Even I wouldn't show up at a dinner engagement with a wine that costs 3 dollars that I've never tried. That very well could be a recipe for disaster, or, at the very least, an easy way out of being invited next week!
Well, in contrast to my less-than-satifactory review of the Crane Lake Merlot, the Chardonnay isn't bad.
I could smell oak, berries an ethanol. Well-rounded in my mouth, I'm not ashamed to say I like this wine.
I firmly believe in having a wine rack that is ready for anything. And Crane Lake Chardonnay is a good way fill the chardonnay slots without breaking the bank.
Google backs up my review. Search Google for Crane Lake Chardonnay. What do you find? Gift baskets. Cheap for the manufacturer, yet still acceptable to give to someone as a gift.
Rating: 6.5/10
Price: $3.34
Enjoyed with: Whitefish, veggies and rice