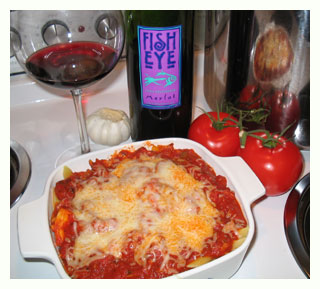 FishEye Merlot caught my eye at the supermarket yesterday when trying to find a good cheap wine to pair with my pasta and chicken dinner.
Nice and fruity, I think the strongest aroma was plum. This wine was a good match to my dinner, and a good value for $5.89. I'd like to try their Cab one of these days.
Also, be sure to check out the Fisheye Winery website. Lots of fun!
Rating: 7/10
Price: $5.89
Winery Info:
Fisheye Winery
Ripon, CA