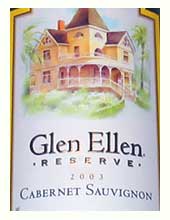 Glen Ellen Reserve 2003 Cab was the cheap wine of the night last night. Just destroying my pocketbook at a whopping $4.99, this wine provided a nice pairing with the pizza I had delivered.
After I popped the artificial cork, the cherry and tannins were very noticeable. Not very dry, but rich in flavor. I would recommend this wine as a good cheap wine to have with a casual dinner. Pizza, pasta, hamburgers or steak would be excellent with this wine.
One thing that did perplex me though was that I couldn't find these guys on the web. I thought I remember seeing large jugs of this cheap wine a while ago, so I went to look for their site to confirm, with no such luck. The back of the bottle states:
In the heart of California wine country, stands the Glen Ellen house. Surrounded by vineyards first planted in 1883, both the house and the wines of Glen Ellen have stood the test of time.
If they have stood the test of time, why don't they have a website? Ah, well, I have a feeling some of the best vineyards out there don't. So get off the computer and go visit and support your local vineyard!
Rating: 7 – I would get this wine again.
Price: $4.99
Winery Info:
Glen Ellen Winery
Ripon, California