The best kinds of cheap wines are the kinds that have a rich story behind them. Well, The Tillerman White wine brought to you by the Hook & Ladder Winery certainly fits the bill. At first glance this wine label made no sense to me… Hook & Ladder? The Tillerman? After doing some research, I feel enlightened knowing the origins of this fine cheap wine, so I'll share:
The owner of the family-run Hook & Ladder, Cecil De Loach used to be a firefighter! "Hook and Ladder" is just another name for a firetruck. And The Tillerman is guy who drives the back end of a firetruck. A firefighter and a wine-maker! What a life!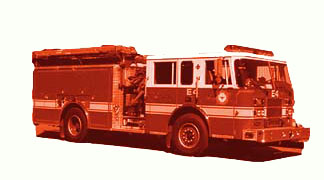 I sampled several bottles of The Tillerman White, and I am glad I did. Not being a fan of white blends with a lot of oak, I enjoyed everything about this wine. The peach/apricot aroma was the most prominent feature of this wine as it approached my nose. The wine was very dry, tasty, had an awesome finish. Just a perfect all-around table wine. For about 16 bucks or less, this Sonoma County wine is a steal. If you see it in your supermarket, snatch it up! I look forward to trying some of their many other varietals. This same vineyard, the Russian River Valley produces Chardonay, Gewurztraminer, White Zin, Pinot Noir, Zinfandel, Cabernet Sauvignon, and the "Third Alarm" Reserve Chardonnay. Oh, how I would love to visit the vineyard one day.

Rating: 9/10 – Excellent! The only reason I'm not giving it 10 is because I promised my readers "cheap wines less than 15 dollars" and this wine retails for 16. Look around though, I'm sure you can find a good deal! Even if you can't, it is worth the extra dollar.
Extra Info: Hook & Ladder – Founded in 2004
2027 Olivet Road
Santa Rosa, CA 95401
phone: 707-546-5712
pH: 3.3
Acidity: .73
Alcohol: 13.8%
Winemaker: Cecil De Loach
Cases Produced: 2,400