This cheap wine is a delicious wine for the price ($4.79!). This Argentinian wine really has more to offer than you would expect from a wine that costs less than 5 dollars.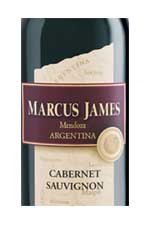 Deep ruby-red in color, this cheap wine was very dry and crisp and had a very agreeable finish that seemed not to overstay its welcome on your tongue as if to urge you along to another sip.

The Marcus James website describes this wine as having aromas of berries, tobacco, cocoa, vanilla, pepper and spices. While I certainly didn't notice all of those last night, I'm willing to give it another shot. I'm giving this cheap wine the "Best cheap wine under 5 dollars" award for now. Congrats Marcus James!
Price:$4.79
Alcohol content: 13%
Enjoyed with: Sausage and cheese
Winery Info:
Marcus James
Phone: 888-659-7000
Mendoza, Argentina