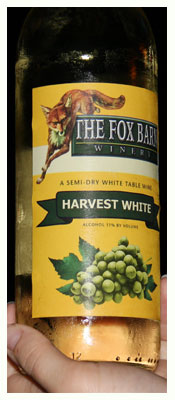 Since moving to Pensacola Beach from Michigan, I have been longing for a great, cheap, rich Michigan wine. Well, Harvest White from the Fox Barn Winery fits the bill!
This semi-dry white has all the characteristics of the wine I loved so much from Michigan. Spicy, fruity and "snappy", this wine was a perfect companion on this hot, humid Florida night while we enjoyed some Bands on the Beach.
Since moving to Florida, I've really become aware to how good I had it in Michigan. You couldn't drive an hour in any direction before hitting a winery, and I do miss being able to do just that. Many of the gas stations down here in Pensacola sell all the generic cheap wines: Yellow Tail, Beringer, etc, but you're not likely to find anything from a local vineyard.
My friend (the one that graciously brought me this wine down all the way from Shelby, MI) mentioned that the tasting room at The Fox Barn Winery was just recently opened, and was a lot of fun to visit. According to their website, it looks as though they have nice little produce market as well.
I am definitely going to check this place out the next time I'm in Michigan, and I would recommend anyone traveling near Shelby to stop in as well.
You can also check out Fox Barn's website, or their blog.
Rating: 9/10 – Great!
Price: Not sure, since it was a gift, but I think my friend mentioned it was less than 10 dollars.
Winery Info:
The Fox Barn Winery
Paw Paw, Michigan
Phone: 231-861-8050