Well, after another long, hard night at work, I, like many people, feel the need to calm the nerves with a nice, cheap bottle of wine. For this very reason, I keep a 4-pack of these mini bottles in my drawer. Cavit Pinot Noir comes with 187ML in each bottle (if you buy the four pack).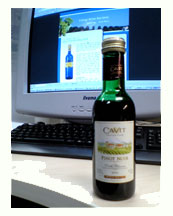 Why this wine? Mostly because the conveinent 4-pack fits in my drawer.
Tasting Notes:
Nothing spectacular. An enjoyable Italian Pinot Noir. Dark cherry aromas, and somewhat spicy. Very "traditional" tasting. I like this wine, but it isn't as tasty as the Twin Fin I reviewed a few days back. I'll probably try something new after I finish the other three still in my drawer. For now, I'll give it the official "Cheap Wine to Keep at the Office" award. Congrats Cavit.
Price: $9.99 for the mini 4-pack.
Rating: 6.5/10
Enjoyed with: The soft, warm glow of a computer monitor within the confines of my cubicle in a deserted office.
Winery Info:
Cavit
Chief enologist: Giacinto Giacomini
Imported by Palm Bay Imports from Italy