Leelanau Cellars markets this unique spiced wine as Witches' Brew around Halloween, but let me assure you that it is a great wine to have on hand throughout the winter. This wine has two labels, the Halloween one (Witches Brew) and the label for the rest of the year, simply named Leelanau Cellars Spiced Wine.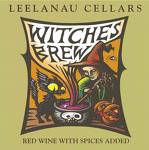 If you're looking for something fun and unique to bring to a holiday party this year, this is your wine! This wine is best served heated! Simmer in a pot over low heat until it is warm (the temperature of a witches' tongue, if you're celebrating Halloween). This spiced wine should not be served with dinner, but rather as dessert, with some good, dark chocolate. I suppose it could also be good before dinner, while folks are still arriving to the party. It would make a great ice-breaker!
Witches Brew is obviously a sweet wine, with aromas of cinnamon and cloves. It has very different characteristics when heated vs. room temperature. Try both!
Rating: 9/10 — Truly unique!
Price: $5.99
Where can I get it? Many places in Michigan carry this wine, especially around the holidays. I found it at Meijer. You could always visit the Leelanau Cellars north of Traverse City to stock up!