Okay I'll admit it: One of those eye-catching wine stands in the store attracted me to this wine. Upon entering the all-too-familliar wine and liquor aisle at my local store, I was greeted today with a big surfboard shaped display of Twin Fin. This wine is being pushed as a fun, California summer wine. Check out the Twin Fin Wine Website to see what I mean.
It was a beautiful night tonight, almost California summer night beautiful, so I picked up a bottle at $10.99. Considering my last few reviews were of wines that cost less than 5 dollars, this is quite a jump. Hey! Fish don't fry in my kitchen, and beans certainly don't burn on the grill.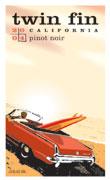 I really like the bottle. A retro orange and yellow thing going on. It really stands out on the rack. And like the previously reviewed St. Julian Simply Red, it also has a screw cap. Bonus!
All this hype! How does it taste?
9/10. I'm giving this wine the rating of "Excellent".
As the glass approached my nose, I was greeted with distinct Pinot Noir, cherry, and just a dash of oak. Hardly any oak, really. The alcohol was a little strong, but the wine had beautiful form. Sweet on the front of the tongue, but very rich and fruity on the back, this wine was everything I could ever want out of a red wine on a summer night. Wonderful stuff. After I had a few sips, I read the back of the bottle:
It's kinda like us – all flavor and no worries. A wine that prefers sunny days over dark cellars
Well, Sam and Hugh, the winemakers, certainly look like they're having fun: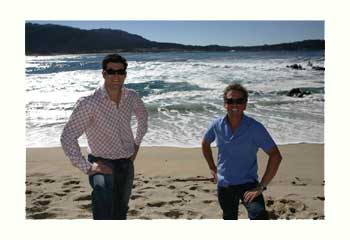 I drank this tonight on my front porch with a homemade pizza for dinner. Life is good. This wine is excellent. And if THIS wasn't enough to convince you to try this wine, go rent the movie Sideways. You'll be picking out Pinot Noirs everywhere you go.
Rating: 9/10
Price: $10.99, on sale for $8.49
Alcohol content: 13.5%
Winery Info:
Twin Fin Wines, Graton California